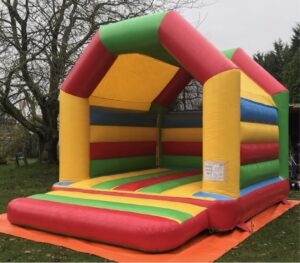 Bouncy castle available for hire! 
Suitable for both adults and children, this colourful bouncy castle will bring fun to any special occasion, or just as treat to brighten up your bubble during these challenging times.
At 16ft by 12ft it fits into most gardens. 
£100 a day or £150 for 2 days.
Covid secure service.
Please contact us for further information or to book.
Frequently asked questions.
Q: Has the bouncy castle got a roof?
A: All our units are fitted with shower covers unless otherwise stated, but we must point out that they only offer limited protection from bad weather.
Q: Does the bouncy castle have to be plugged in?
A: Yes. We require a standard 13amp socket to plug the unit in. The socket should be located ideally within 30m from where the bouncy castle is to be sited. Please advise if the distance is longer – we do have long cables available!
Q: Does the unit have to set up on grass?
A: No. We can set up most of our inflatables on any smooth and level surface. However, certain units, because of their size and design can only be anchored to a grass or turf surface. Please advise if not setting up on grass.
Q: What if it rains on the day?
A: In the event of very bad weather our delivery team will call you on the morning of the booking to confirm whether you still want us to deliver. In cases of torrential rain/ thunderstorms we will actually cancel the booking and phone you at the earliest possible time. This is done purely for safety reasons. We make no charge for cancelled bookings in these circumstances.
Q: Do you have Public Liability Insurance?
A: Yes. All our inflatables carry 5 million pounds Public Liability Cover. This covers the unit for any mishap which may occur due to the unit being faulty. IT DOES NOT COVER ACCIDENTS WHICH MAY OCCUR DUE TO HUMAN ERROR, MIS-USE OF THE UNIT OR LACK OF PROPER SUPERVISION. IT IS DOWN TO YOU, AS THE CUSTOMER TO MAKE SURE THE UNIT IS PROPERLY SUPERVISED AT ALL TIMES AND THAT THE TERMS & CONDITIONS OF HIRE WE GIVE YOU ARE PROPERLY ADHERED TO. A copy of our insurance certificate is always available for inspection with our delivery drivers if required.
Q: How do I pay?
A: When the booking is made an invoice is sent for payment in advance.  There will be a link to Paypal on the invoice, or payment via BACS is possible too.  When payment is received, your booking is confirmed.
Q: When will the bouncy castle hire or other unit be delivered?
A: We commence our deliveries daily from 8am and always aim to complete all deliveries by 12pm where ever possible. Our collections start at 5pm and we follow the same route as for delivery, therefore units delivered first will be collected first. This ensures all bouncy castle hires and other hires are of a similar duration. Should you require delivery or collection at a specific time, we will always do our best to oblige, but may have to charge an additional £10 for this service, especially at busy times of the year.
Q: Do you charge for delivery?
A: We operate a free 10 mile delivery service from Bordon as long as customers are willing to receive their unit(s) anywhere between 7am and 12pm, and are willing to have the unit(s) collected after 5pm. We may require a £10 booking fee if you want to order your unit(s) for a specific delivery or collection time. Should you be outside our free delivery area, please phone to enquire to see if we can oblige.
Q: Do you stay with the unit?
A: No. Once you are happy with the set up and safe operation of the equipment, our staff will leave you with it until they come to collect. We do not accept bookings which require staff members to supervise the unit.
Q: How much does it cost to run the bouncy castle all day?
A: The bouncy castle runs on a 750w motor, and therefore costs around 10p per hour to run.
Q: Can the inflatable be used indoors?
A: Yes. All our inflatables can be used indoors, subject to the minimum sizes stated in their description. We ask that you make sure there is at least 2ft space all around the unit to give it space to move and also to allow access to all parts. PLEASE BE EXTRA CAREFUL ABOUT HEIGHT!!! PLEASE NOTE IF WE ARRIVE AND THE CASTLE DOES NOT FIT THERE MAY BE STILL A CHARGE TO COVER FUEL AND WAGES EVEN IF THE BOUNCY CASTLE OR OTHER PRODUCT CAN NOT BE SET UP.
Q: Do I have to leave a bouncy castle plugged in?
A: Yes. Even in bad weather the bouncy castle or inflatable unit should be left inflated until our bouncy castle hire delivery team arrive to collect it.
Q: My event is in a field & has no electric supply – can you still supply a bouncy castle?
A: We can run units off a generator but we obviously need to know in advance to bring one.
Q: I need to cancel the booking for another reason. How do I go about it?
A: We realise that situations can change very rapidly and not only because of the weather. All we ask is that you phone us as soon as possible if you wish to cancel your booking. If we can't answer the phone, please leave a message and we will ring you back to confirm your cancellation. WE DO NOT CHARGE FOR CANCELLED BOOKINGS MADE WITH AT LEAST 24 HOURS NOTICE (EXTENUATING CIRCUMSTANCES MAY BE EXEMPT)
Q: My party doesn't start until late afternoon. How long can I have the unit for?
A: Our bouncy castle hire prices are for a hire period of 6 hours. Unforunately, it will be the same price if you need it for 2/3 hours, as we can not re-book it out again. We may able to supply units overnight or over weekends, subject to availability.  Late finish times are possible by arrangement but may incur an additional fee.